If you are looking for specific Shock absorbers and suspensions for car, you are in the right place.
Our extensive range of OP suspension components includes those designed for a wide range of car makes and models. Among the most popular applications are Peugeot 208, Volkswagen Golf, Dacia Sandero, Renault Clio, Toyota Yaris, Fiat 500, Citroen C3, Hyundai Tucson, Toyota Corolla, Mercedes A-Class, BMW Series and others.
The correct functioning of the suspension depends on the state of all the components of the system. Damage to a single element can compromise the efficiency of the other components as well. With a complete replacement, maintenance time and costs are reduced and the suspension is more durable and efficient.
OP shock absorbers, front and rear, are designed and produced with accurate processes to improve safety and road holding as well as driving comfort. The C45 or C35 steel rod is machined with a high-tech grinding process and with chrome plating. The cylindrical body of the shock absorber consists of two coaxial tubes made of FE360B, very wear and stress resistant, with CNC machining and a protective coating treatment. Oil with low emulsion level. It keeps its original features even with low temperatures (-40°C). The tests are carried out according to the international standards and parameters JSAE - JASO C602.
- OP Coil springs play a key role in car suspension system since: they balance the car by sustaining the weight and absorbing road vibrations and they ensure a longer life to shock absorbers and the whole suspensions system, keeping the right contact between tyres and road. Features and checks held on the product complies with the OE standards: Raw materials and processes can be tracked and are certified in each step of production; 55CrSi Harmonic Steel and the diameter of the spring wire match with the OE standards; Hot coiling technology; Powder ink spraying and high temperature solidification thickness; Thickness and coating tests + salt spray test to check corrosion resistance of the spring.
- OP Air Springs are an increasingly requested type of replacement which, together with the shock absorbers, guarantees a comfortable and safe driving experience in all road conditions. Unlike traditional steel springs, air springs allow you to adjust the vehicle set-up and the level of suspension stiffness through a system of inflating and deflating the air chambers. The OP air springs offer numerous advantages over traditional springs. Firstly, they guarantee a more comfortable and safer ride in all road conditions, as they better absorb road vibrations and irregularities. Secondly, they make it possible to increase the vehicle's load capacity while maintaining the trim unchanged. Finally, air springs can reduce tire wear, improving tire life and performance. The OP air springs meet all the characteristics of the original equipment to guarantee a product of equivalent quality and are tested with precision in order to guarantee high levels of safety and quality. OP recommends one replacement of the air springs in pairs per axle.
- OP Dust Cover Kit improves road stability and vehicle handling while protecting suspension components against dust and humidity that can damage the surface of bearings and piston; road debris material hits on rod pistons. Dust Cover Kits by OP are designed to match OE standards for quality and functions. Premium Materials: Boots are made with TPE material (Thermo-Plastic Elastomer) which increases strength of components comparing to natural rubber; Buffers in PUR Rubber ensuring higher resistance to corrosion, ageing and temperature. All materials are tested in order to guarantee high and low temperature resistance (- 60° up to + 100°).
- Strut Mounting Kit: rubber parts treated with vulcanization. Metal components finished with ultrasonic cleaning and treated with anti-corrosion processes such as phosphatizing. Lab tested during all manufacturing steps with endurance tests.
The OP suspension components undergo high-precision machining to ensure maximum safety and excellent vehicle road holding, without sacrificing driving comfort. The correct functioning of the suspension depends on the state of all the components of the system, the damage of a single element can also compromise the efficiency of the other components. A complete replacement reduces maintenance time and costs and ensures longer suspension life. Discover the wide range of shock absorbers, coil springs, Strut Mounting Kit, dust cover kits for every type of car, become an OP dealer and discover the advantages dedicated to you.
The importance of a full maintenance for efficient suspensions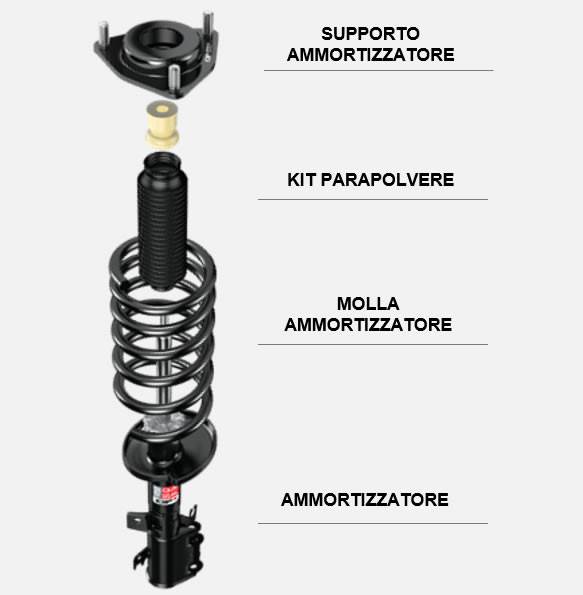 The efficiency of suspensions depends on the status of each component of the system.
One damaged part can affect the functioning of the others.
A full replacement of suspension components will help you save time and money, and it increases the life of your shock absorbers.
Products